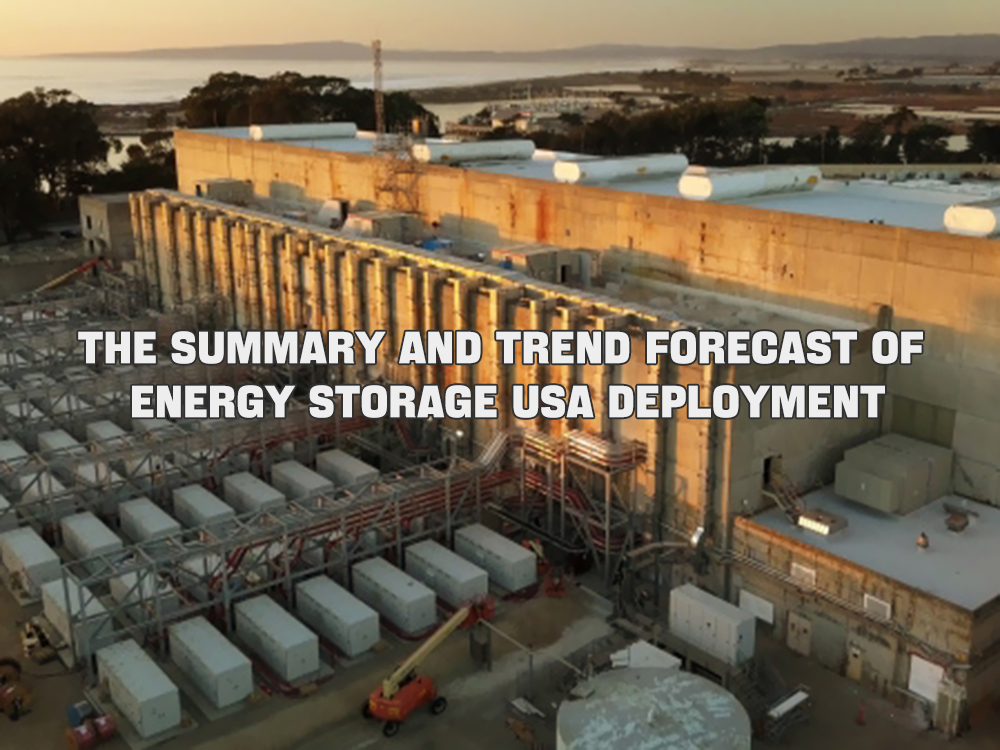 The U.S. energy storage industry is gaining momentum, with research showing that the U.S. battery energy storage market is in a critical period of substantial growth, and falling battery costs are driving more deployments of battery storage systems across the US. The energy storage USA deployments are growing rapidly and on a larger scale. This article will provide you with more details on the deployment of energy storage USA, including a comprehensive analysis of energy storage USA and forecasts of future trends. In addition, you may be interested in information about energy storage lithium battery companies, you can learn more by reading Top 10 energy storage lithium battery companies on our website.
1.The installed capacity of new battery energy storage USA reached more than 3.5GW in 2021
A U.S. Energy Storage Monitor report indicates that the growth of the U.S. battery storage market is accelerating, with 1.6 GW of storage systems deployed in the grid-scale, commercial and residential energy storage industries in the fourth quarter of 2021. The installed capacity of battery energy storage systems in the United States will reach more than 3.5GW in 2021, more than double the amount in 2020. Despite supply chain challenges and project delays, grid-scale energy storage and distributed battery storage have seen record growth in the United States.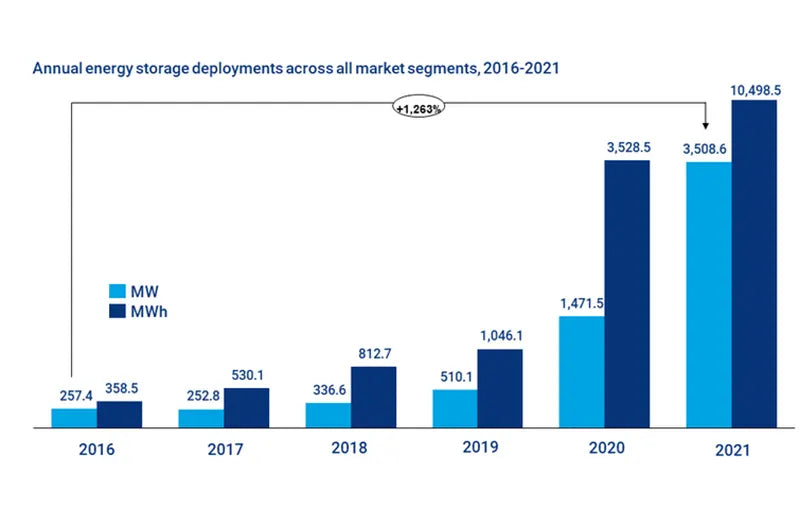 US annual battery storage deployments are climbing
According to the report, if the investment tax credit (ITC) for independently deployed energy storage systems and the investment tax credit for solar power generation can be extended, the United States will add 63.4 GW of battery storage systems from 2021 to 2026. The massive deployment of solar-plus-storage projects and independently deployed battery storage projects makes 2021 a breakthrough year for the market of energy storage USA. 
① Grid-scale battery storage systems: setting new quarterly records
The U.S. set a new quarterly record for grid-scale battery storage deployed in the fourth quarter of 2021, despite delays in some energy storage projects due to supply chain issues. The 409MW battery energy storage system deployed by the United States in Florida has become the largest energy storage project in 2021. Overall, 2021 will be a record year for the deployment of grid-scale battery storage in the U.S., with a total of 2.9GW/9.2GWh, although more than 2GW of storage has been delayed to 2022 and 2023. Delays in some energy storage projects in 2021 have been largely short-term, with some 800MW of battery storage projects scheduled to be deployed in 2021 delayed until Q1 of this year.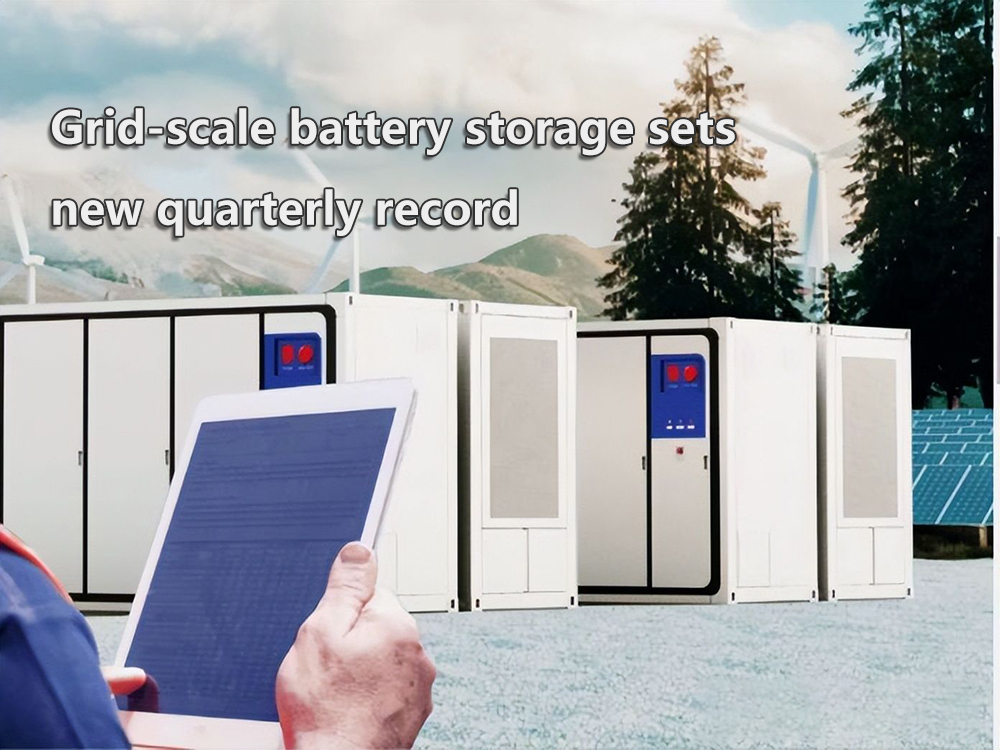 Supply chain and ongoing logistical issues are the main reasons behind delays in the deployment of energy storage projects — issues that are not expected to ease this year. In addition, rising battery module and balance-of-system (BOS) product prices have hit the short- to medium-term plans of many energy storage developers and utilities. They may have mitigated the increased capex by deferring purchases, with a follow-on impact on the Commercial Operation Date (COD).
Markets such as Arizona, Nevada, and New Mexico are more attractive for deploying solar-plus-storage projects, given existing and projected future penetration rates of solar power. The PJM/MISO/Southeast U.S. regional market will see new growth as the market matures, increased load, increased penetration of renewables creates grid fluctuations that drive energy storage deployments.
② Distributed battery energy storage system: stable quarter-on-year growth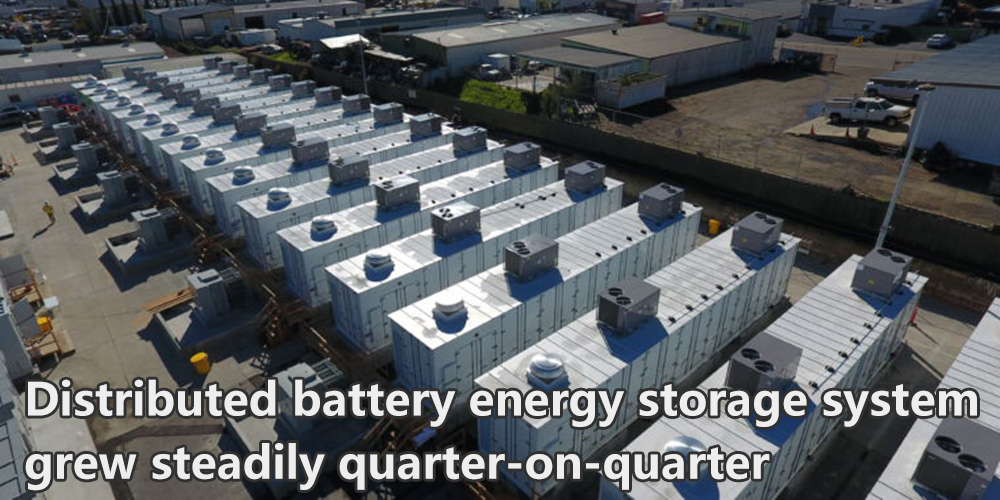 The U.S. also set another record for residential, community-scale and commercial energy storage deployments in the fourth quarter of 2021. 123MW of residential battery storage systems were deployed in the fourth quarter of 2021, accounting for approximately 7.6% of the total installed capacity of various storage systems deployed in the quarter, and a total of 58MW of community-scale and commercial storage systems were deployed in the quarter.
The residential energy storage space is growing steadily, with more significant diversification of suppliers, installers and state markets. Factors driving the rise in home energy storage deployment rates include:
Increased customer concerns about power outages.
Growing awareness of energy storage as a backup power solution.
New partnerships between suppliers and solar installers.
New residential products on the market.
While less than 1 in 10 solar power facilities in most U.S. states are currently equipped with battery storage systems, the percentage is higher in some key U.S. markets. It is expected to climb rapidly through 2026. Among the factors affecting the deployment of residential energy storage systems, the most important factor is the tight supply of batteries. Market participants in 2021 report that project delays will be higher if energy storage providers are not committed to procuring or maintaining inventories, while manufacturing and supply chain issues are bottlenecks for U.S. energy storage installers.
On the non-residential side, deployments for energy storage USA are also growing. Despite the prospect of reduced spending, there is still a high concentration in markets with supportive regulatory frameworks and incentives. 2021 saw significant activity in community-scale segments in Massachusetts and New York. Thanks to Massachusetts' SMART program and New York's distributed energy resource tariffs, these two states will deploy more than half of U.S. non-residential energy storage systems in the second half of 2021 and will remain ahead of the U.S. non-residential storage market through 2026 status. Backed by incentive programs, most of the new energy storage systems added to the energy storage market came from California, most of which were commercial energy storage systems.
2.U.S. energy storage system deployment grows substantially in the first quarter of 2022
Despite supply chain constraints resulting in project delays and procurement disruptions, the installed capacity of energy storage deployed in the United States continued to grow significantly in Q1, 2021. In the latest U.S. Energy Storage Monitor report, the sector just had its strongest first quarter on record in terms of megawatt-hour grid-scale energy storage: 2,339MWh were deployed in the first quarter of 2022.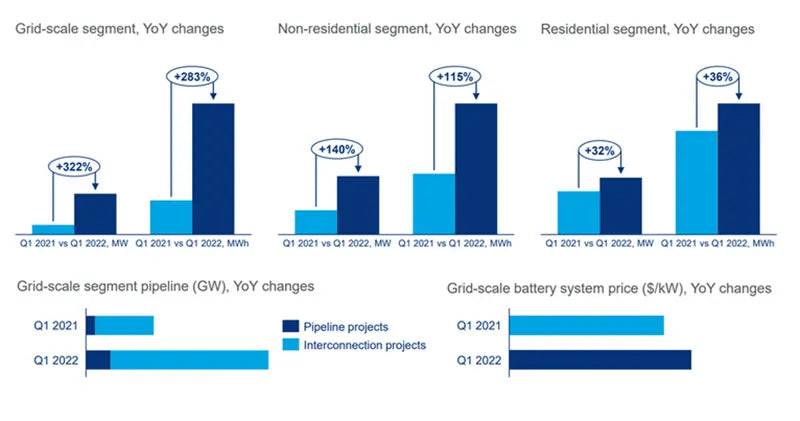 Energy storage systems deployed in the U.S. in Q1 2022
Across all market sectors, including grid-scale, residential and non-residential (e.g. commercial and industrial or community facilities), the US deployed 955MW/2,875MWh in the first three months of the year. A senior battery storage analyst said the first quarter of 2022 was the highest quarter to date for grid-scale energy storage deployments in the U.S., a milestone.
The record grid-scale deployments in the first quarter were concentrated in Texas, Nevada and California. The U.S. West Coast and Southwest dominate standalone and hybrid energy storage. It was also an important quarter for the U.S. residential energy storage industry, with a total of 334MWh of residential energy storage capacity deployed, up 18% from 283MWh in Q4 2021.
3.Forecast of the development trend of the energy storage USA
According to forecasts, at current growth rates, the U.S. residential battery storage industry will grow at a rate of 5.7 GWh per year through 2026. California's rollout of the Net Electricity Metering (NEM) 3.0 program is expected to align with the California Public Utilities Commission's December 2021 decision, but the current implementation schedule has been delayed. While the non-residential energy storage market is expected to grow by 1GW per year, delays in the procurement of raw materials and equipment have lowered market forecasts.
The report noted that the United States installed 910MWh of energy storage in the Q1,2021, a 252% increase compared to the first quarter of 2020. However, the non-residential energy storage market (commercial and community scale) has grown slowly, with only 25MW to 35MW installed over the past five quarters. Overall, cumulative installations across all three segments are forecast at 54.9GW/188.4GWh between 2022 and 2026. By the way, for energy storage, lithium ion solar battery is the optimal choice.
Related articles: solar pv industry, solar panel maintenance