TYCORUN PRODUCT PARAMETER

Tycorun power storage brick ESS adopts the latest ESS battery system. With rich experience and advanced techniques, the product has the features of the fashionable design, high energy, high power density, long service life, and easiness of installation and expansion, all of which reflect the real requirements of the end users and strongest technical capability of our company.

It is a kind of environmentally friendly backup power system. We use phosphates rather than cobalt to avoid environmental concerns, lower the possibilities of thermal runaway because of improper disposal, and save the production cost as well. Compared with other products in the market now, this kind of product experiences a lower rate of capacity loss. With state-of-the-art power conversion and energy storage technologies, our energy storage system (ESS) offers high-efficiency power conditioning capabilities for demand management, power dispatch, renewable energy smoothing, etc. Our ESS can provide comprehensive energy storage for residential, commercial and utility applications. Our Li-ion battery portfolio covers cells, modules 48V, cabinets (indoor/outdoor) and containers, which offer customers excellent scalability and adaptability to a wide variety of requirements.

PRODUCT ADVANTAGE
Security:
Backup Protection

Power storage brick is a battery that stores energy, detects outages and automatically becomes your home's energy source when the grid goes down. Unlike gasoline generators, Power storage brick keeps your lights on and phones charged without upkeep, fuel or noise. Pair with solar and recharge with sunlight to keep your appliances running for days.
Independence:
Power Everything

Power storage brick reduces your reliance on the grid by storing your solar energy for use when the sun isn't shining. Use Power storage brick alone or combine it with other Tycorun products to save money, reduce your carbon footprint and prepare your home for power outages.
Design:
Modern And Modular

Easy to install and minimalist in design, power storage bricks complement a variety of home styles. Modular, the battery capacity can be increased freely and flexibly according to household usage.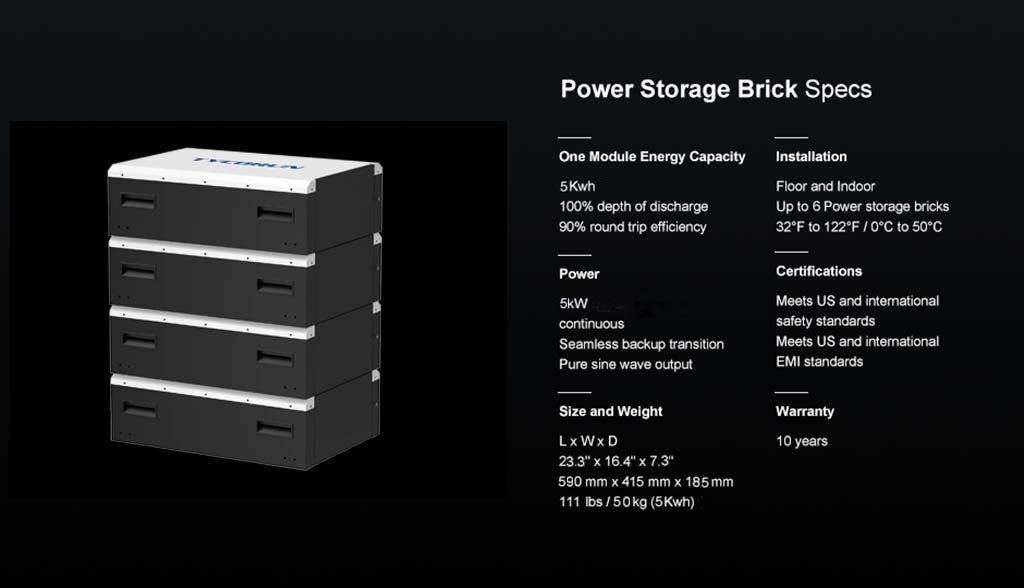 Battery Packaging
Super Safe Test
Passed the following abuse and safety tests - short circuit, drop, spike, impact, crush, thermal shock, overcharge, overdischarge: no fire, no explosion, chemically stable.
Application Scenarios