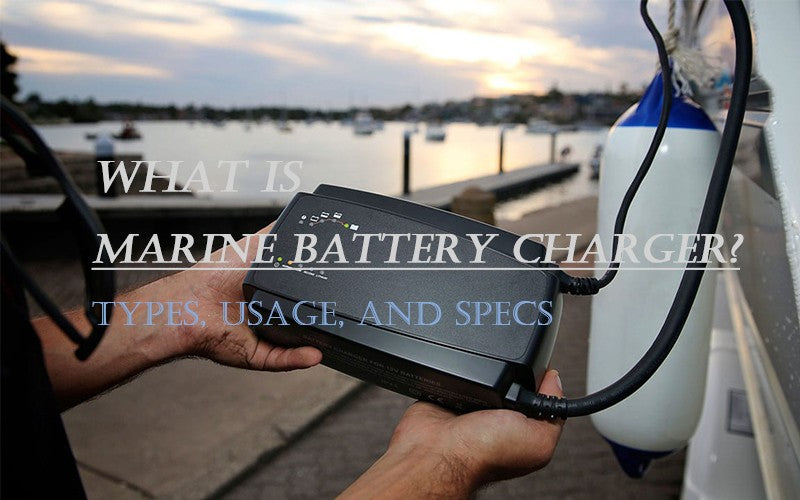 All types of boats are equipped with batteries. Their role isn't that different from a car battery; they supply power for starting engines and for electrical appliances, and equipment. Boats can use different types of batteries like lead-acid and lithium marine batteries. These batteries are rechargeable and they are designed to have high endurance. Marine battery charger is mounted on the boat and wired to the battery. Once the boat gets to the port, it could be plugged to shore power.
1.What are marine battery chargers for
Boat battery chargers have the same role as ordinary chargers; they convert 220 or 110v AC current to DC 12v, 24v, and 48v ... depending on the battery's specs. Large ships and yachts  use mains electricity via battery chargers. Small boats need to be connected to sockets in marinas to recharge their batteries.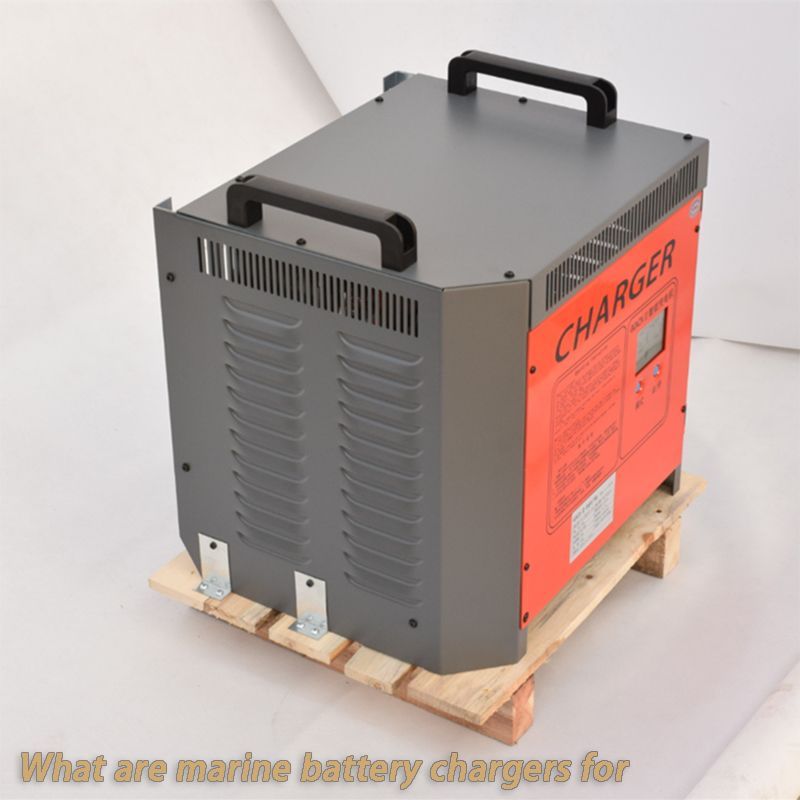 2.What are the requirements for a qualified marine battery charger?
To choose an effective marine battery charger with good quality, you need to know a few things about your batteries:
Battery capacity which is indicated in Ah, and the amperage it supports.
Battery type; Lead-acid, gel, AGM, or lithium battery.
Voltage, you need to know the voltage limits the battery can't exceed while charging. The battery's output must match the charger's. 
3.Choosing tips for Types of marine battery charger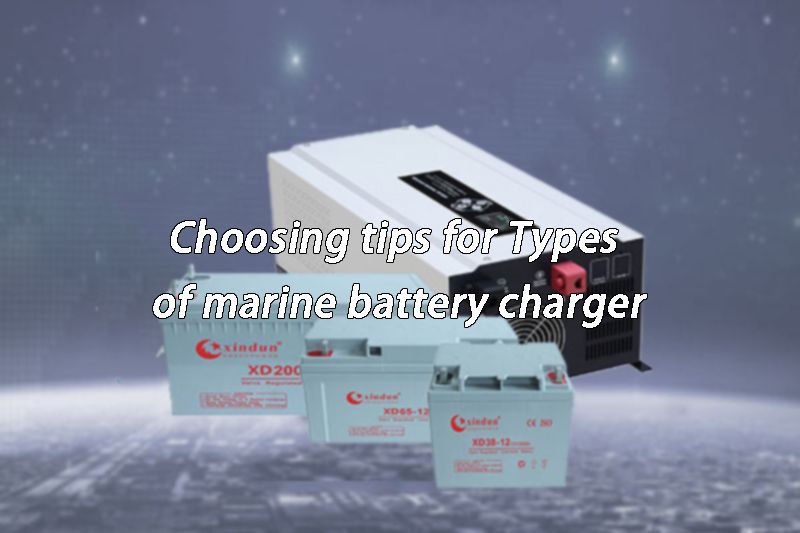 ①What are the types of marine battery charger?
There are many types of boat battery chargers, depending on their usage and specs. There are waterproof, vibration proof, mountable, and have multiple banks. Users have to choose types according to what they need. For small boats, mountable and waterproof marine battery chargers are a great option. Bigger boats with many batteries could use multiple bank chargers. Charging all batteries simultaneously could save precious time. 
②What is a good battery charger for marine batteries?
A good boat battery charger is designed to work in extreme conditions, so it has to be robust enough. A marine battery charger has to be waterproof, always exposed to water makes it vulnerable. Boats use many types of batteries, so it's better to have a charger that is compatible with different types like AGM, Flooded, wet cells. Some battery chargers for boats are built to be mounted on board. User will just have to plug it the shore power and get his batteries charged. 
③Do I need a special charger for a marine battery?
Marine batteries don't need special chargers, but marine battery charger should have some special specs. The most important is matching the battery's requirements, there are manufacturer-defined voltage and amperage for effective and safe charging. If those requirements are not respected they may have bad consequences. Lower specs will lead to slow charge and charger overheating, if they are too high that may damage the battery. 
Lithium batteries should be charged by a special smart charger in order to keep a steady power supply. It's recommended to follow instructions on the boat's battery manual. 
4.Choosing tips for Spec of marine battery charger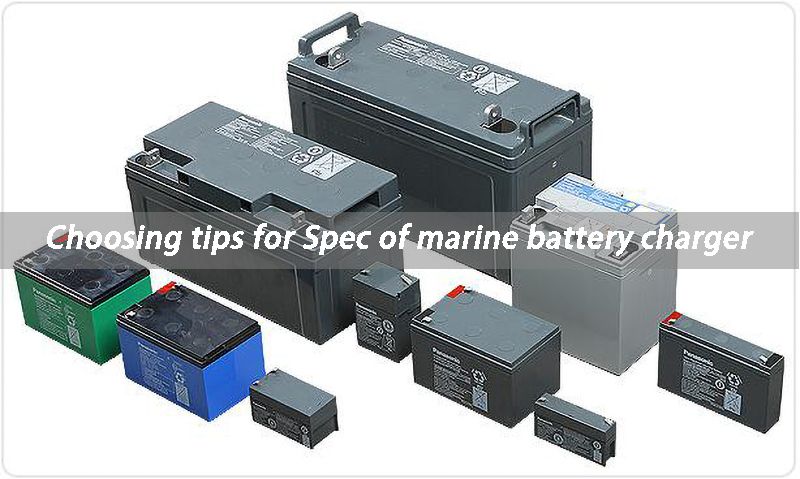 ①What amp should I choose for deep cycle boat battery charger?
In fact, marine battery charger amps are very important as a choice criterion. Each battery has a capacity measured in Amp-hours. The higher the capacity the more the battery will last in use. The charger's amps will determine how long it will take to fully recharge the battery. For example, if the battery has a 50 Ah capacity, and the charger is 10A, it will take 5 hours to charge.  
The easiest way to calculate the charging time is to divide the battery's amp rate by the charger amps. It is recommended to select the charger based on the battery's capacity to get the best charging time. 
②What voltage marine battery charger do I need?
A lithium ion 12V battery requires about 14.6 to 16.6v to be charged properly, 24v models require double the voltage. The battery charger for boats should maintain that voltage; if it's less than it will cause long-term problems.Exceeding that limit also has bad consequences. High voltage will overheat the battery and damage the electrolyte, the lifetime will be shortened. 
③Does the size and weight of the boat battery charger also matter?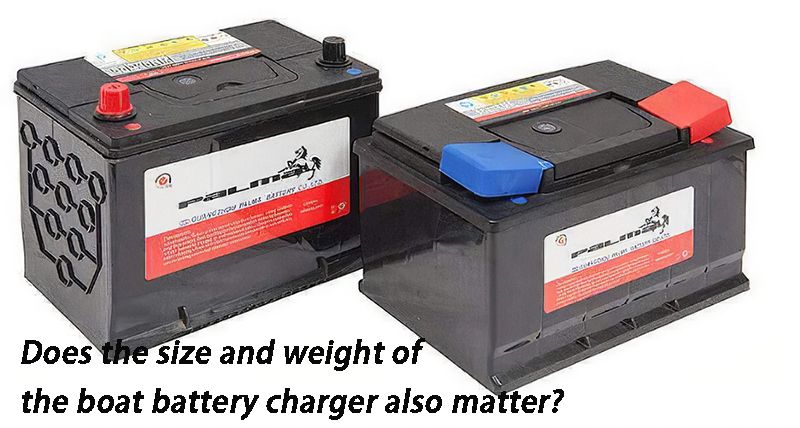 The size and weight of a marine battery charger could be important parameters to choose a charger. in order to mount it on the boat or carry it, size and weight will definitely matter. lighter, smaller, and effective chargers will be of great value. A charger may be used for other applications than boat batteries. Carrying it every time you go on a trip with you may be difficult if it is heavy.
5.Charging tips for Using the marine battery charger
①How to charge the lead acid/ lithium marine batteries
Lead-acid gel or AGM batteries require low voltage in order to be charged properly. Marine battery charger for these types are special, they deliver a steady power flow to allow electrons migration during the charging cycle. Some sophisticated chargers can manage the entire charging operation, they're called smart chargers and they allow the best life span. They can maintain and control temperature during charging, this can avoid any potential overheat-related damage. 
On the other hand, lithium-ion batteries, have their own chargers. They are known to perform at twice the capacities of lead-acid batteries. Boat battery chargers for lithium batteries could be different than others. These batteries require a BMS ( battery management system) that controls the charging and discharging operations. It controls current flow, temperature, and other important information. It protects the battery and extends its life cycle. 
Lithium-ion batteries are charged in a constant current and constant voltage mode. Charging has 3 stages; bulk, absorption, and float, each stage has its own power specs. During the bulk, the charger sends the maximum safe current through the battery. This allows the battery to recharge fast until it reaches 80%. At that moment, the charger enters the absorption stage, it will provide lower power and the charging becomes slower. The battery will reach its 100% capacity by the end of the absorption Last, is the float phase, in which the battery is plugged but not charging. Overchaging protection is active at this point.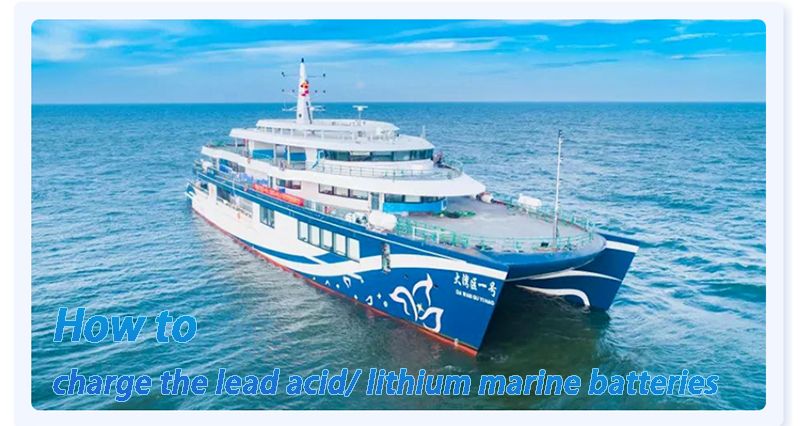 ②How long does it take to charge the boat battery?
Charging efficiency depends on the charger specs, the battery chemistry, and a few more factors. Boats use different types of batteries, the most common are lead-acid and lithium-ion batteries. Each battery type has its own charging specs, lithium batteries are known to recharge faster than any other type. 
The charger's amperage is absolutely important for effective and quick charging, depending on some market information the charging time for a marine battery charger is about 4 to 6 hours. However, fast chargers could significantly reduce that duration as they allow better current flow through discharged cells. The duration could be reduced to 2-3hours and even less for lithium-ion batteries. If the charger isn't chosen properly, it may result in a long charging time. 
Temperature and maintenance could affect battery charging time, new and well-maintained products will have great specs. Too High or low temperatures can cause trouble during charging as it may disturb electrons' flow. 
③How long & often should the marine battery be charged?
Boat batteries should be properly maintained to avoid sudden failures in the middle of the sea. Charging time depends on the boat battery charger used, the balance between battery capacity and charger amperage has a huge impact on charging duration. lithium-ion batteries for boats need approximately half the time other types require.
To maintain lead-acid batteries you need to check their charge frequently. When not in use they have to be fully charged. To keep them in shape, it's recommended to recharge them every 30 days if the boat is not in use. lithium batteries have a very low self-discharge rate, about 3.5% per month, which allows them to last longer and perform better.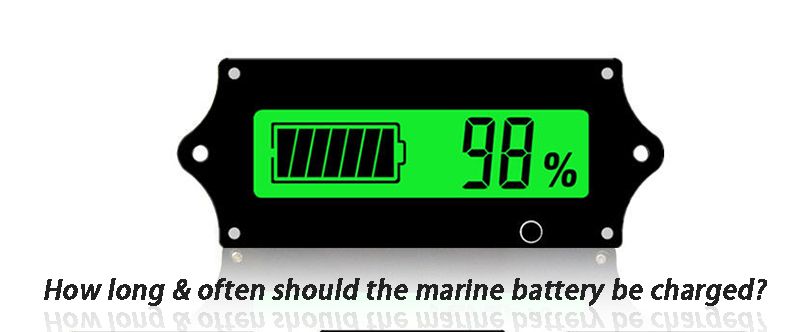 ④How do you charge a marine battery at home/on the boat?
Boat batteries are similar to those used on other products, they could be dismantled and mounted again on the boat. To earn time you can take your battery with you and recharge it at home or have a spare one for replacement. Charging boat batteries at home isn't a difficult task. 
These steps could help you charge the battery safely: 
Make sure terminals are clean
first Connect wires to the terminals starting with the red (positive) then the black.
Plug the charger, if it has a display or it's a smart marine battery charger it will indicate charge level and remaining time...
Once fully charged, unplug the charger starting with the black wire. 
To prevent corrosion, grease the terminals. 
While on the boat, battery charging depends on the location. When in port, the situation isn't different than doing it at home. You just follow the same steps and plug the charger to shore power.In general, if you choose the right type of lithium-ion battery for your boat, you will rarely run out of battery power while sailing. Lithium-ion batteries have high capacity ,voltage and high energy density, which can provide a lot of power while reducing the weight of boat. If you're really afraid of running out of power, you can also pack portable storage batteries, which are specially designed to store energy for large SHEBs such as RVs. 
⑤Charge marine battery in the right way for better performance and battery life
Batteries' lifetime is related to many factors, experts consider the charge as the most effective factor. It's highly recommended to follow manufacturer instructions for both; Boat battery and marine battery charger. 
Chargers need to provide the exact amount of power required for the battery, too low will cause problems, and too high will raise temperatures. In both cases, the battery's lifetime will be significantly reduced. 
Lithium-ion batteries have to be charged using specific chargers. When charged properly (the right amount of power) they can survive for many years. Fast charging using an inappropriate charger will overload the lithium battery and eventually damage it.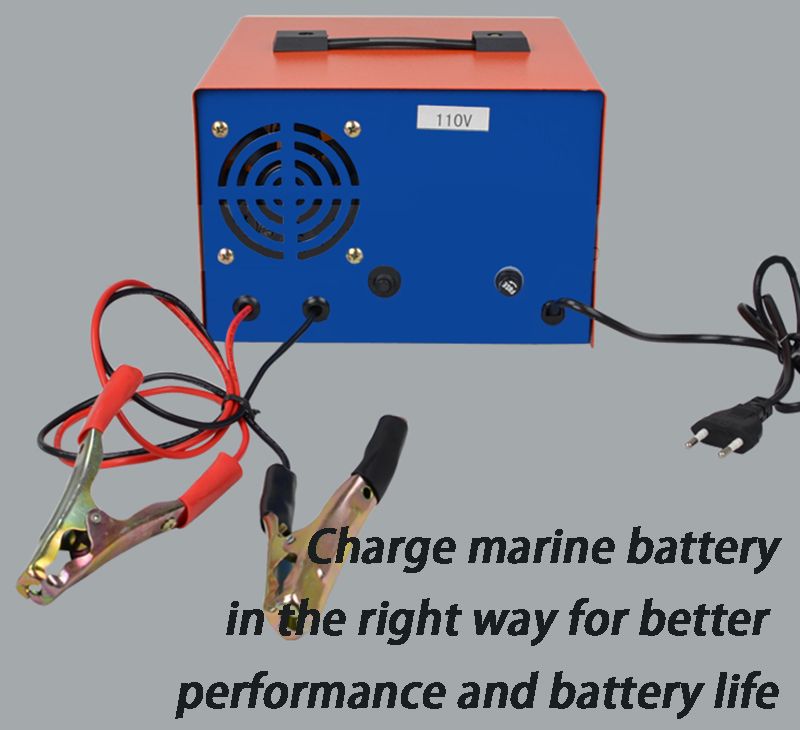 6.FAQs about marine battery charger
①What's the differences between marine battery charger and normal charger?
There are many similarities between normal and marine battery chargers. Those used on boats; mounted or portable, are more robust in terms of mechanical and environmental resistance. They operate in wet conditions with a lot of vibrations so they need to sustain that without being damaged. Also, boat battery chargers are more powerful in terms of electricity output, the main goal is to have faster charging. 
②Can you use a car battery charger on a boat?
Not without checking specs, even if they may look similar in shape and size, car and boat batteries vary. You need to verify the boat battery's specs, the charger should meet voltage, amperage, and chemistry. If both batteries are similar in all those points the charger could be used without any trouble. 
③Is it better to charge a deep cycle battery slow or fast?
Deep cycle batteries can support both fast and slow charges. However, it's proven that charging deep cycle batteries slowly is better on a long-term basis. The slow charge will keep the battery's temperature from rising and reaching dangerous levels menacing to damage it.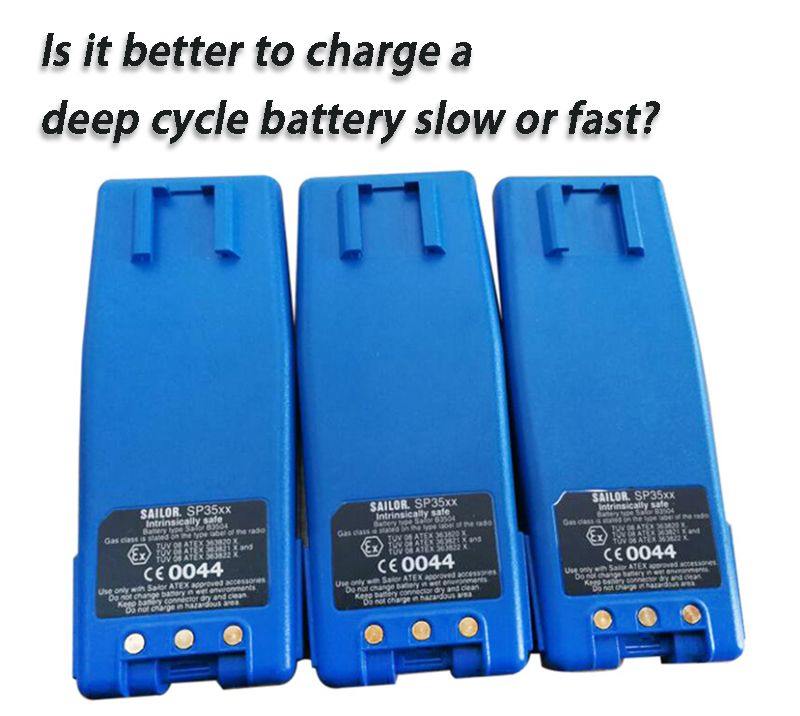 ④Can I use a trickle charger on a marine battery?
Trickle chargers can absolutely be used for marine batteries. When using an ordinary charger, the battery will heat up. For the Trickle charger, the situation is different, it is designed to maintain temperature elevations to dangerous levels. As they won't overheat, batteries will last longer and perform better. 
7.Conclusion
To sum it up, boat charger choices depend on many factors; the battery chemistry, power specs, operating conditions. To charge a boat battery you may use car chargers in conditions it matches its specs. 
Lithium-ion boat batteries will require a smart charger to work properly, they can save a lot of expenses buying other types. They resist all conditions and they are reliable in terms of power supply.  
Choosing the best charger for boat batteries will help you maintain the battery's health. A healthy boat battery could save the headache of low power problems while starting or in emergency situations. Maintaining batteries for longer periods will also save a lot of money.