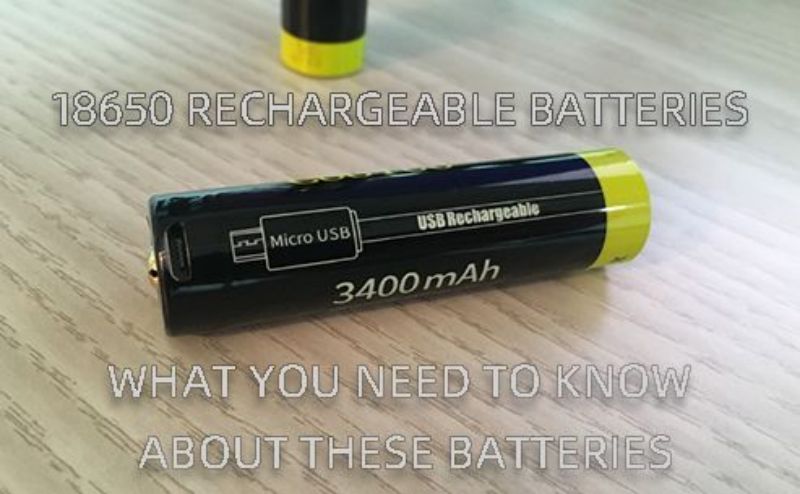 High-capacity lithium-ion batteries are a great replacement for older-generation batteries.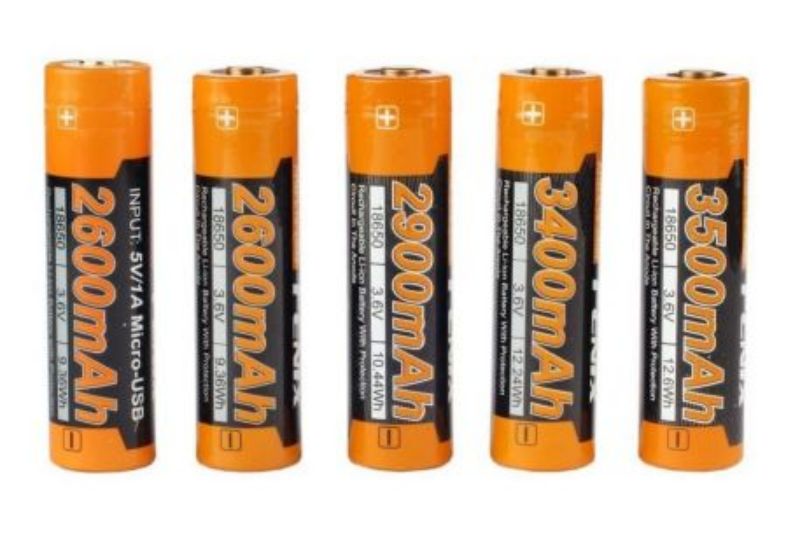 They are designed to be lighter, operate for a longer time, live longer, recharge faster, and have a less negative impact on the environment. Lithium batteries are available in different types, shapes, and sizes. 18650 rechargeable battery is one of the most common in this category. 18650 rechargeable battery is very common as a type of Lithium-ion Batteries. In this article, we will discuss all you need to know about the 18650 rechargeable battery.
1.What is a 18650 rechargeable battery?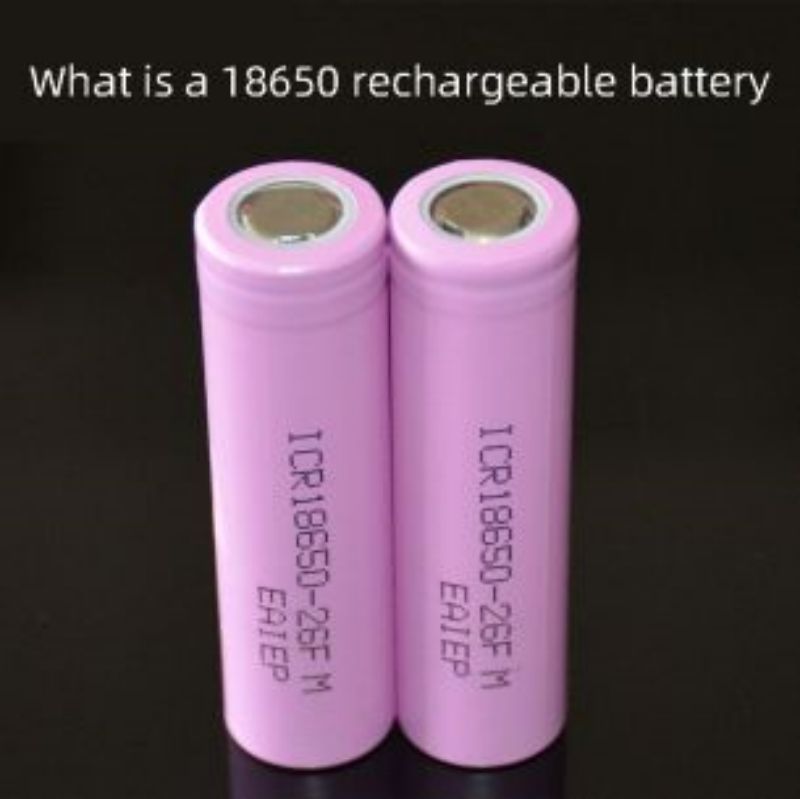 A 18650 rechargeable battery is a lithium-ion type of battery. The name comes from its shape; 18 is for the diameter which is 18mm and the 65 refers to the height of 65 mm. Their voltage is between 3.2 and 3.7 volts. Their capacities could be up to 3500 mAh. The 18650 rechargeable batteries are larger than the AA batteries. And the 18650 rechargeable battery had nearly four times the power capacity of AA batteries.
2.Understanding 18650 rechargeable battery in every aspect
① Specifications
The 18650 rechargeable batteries have a voltage range between 3.2 and 3.7 volts and their capacity is between 2500mAh and 3500 mAh. These specs allow them to be considered as high drain batteries. They are built to generate enough current and voltage to meet the requirements of the product they power. 
② Performance
The 18650 lithium-ion battery cells are known for their high performance. They are lighter than other types and they can deliver a more stable power flow. Also, they are less likely to be damaged by low discharge, unlike Nikel batteries. Performance depends on the quality of the batteries, you need to make sure you get original products. Counterfeit 18650 rechargeable batteries have lower performance compared to authentic batteries.
③ Application
Among top-rated Lithium-ion batteries, we have the rechargeable 18650 batteries. They are very reliable, they last for a longer time than other types, and they can be charged faster. These specs made them a great option for powering a variety of products like electronic devices, flashlights, Vapes... Some lithium-ion 18650 batteries are used to make battery packs for electric vehicles. A number of cells are assembled together to make powerful lightweight batteries. 
3.Why are 18650 batteries so popular?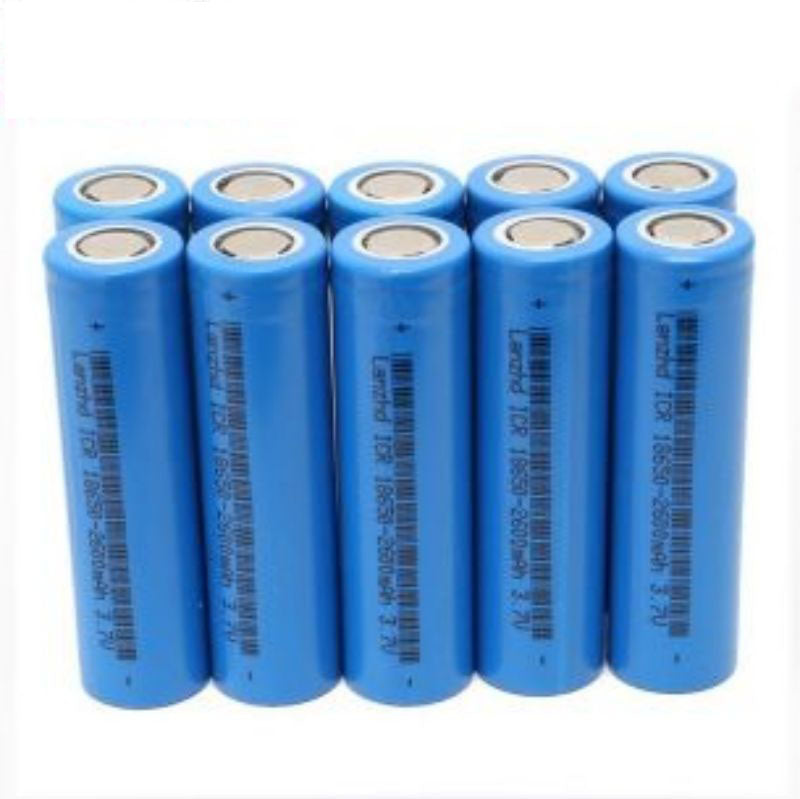 The popularity of 18650 rechargeable batteries comes from 3 main factors: price, availability, and usage. These lithium batteries are cheap, compared to other options, they can save a lot of money. Many worldwide known brands produce 18650 lithium-ion batteries, which makes them available at different prices and specs. Being used in multiple types of products made this battery type very popular in the market. 
4.What is the equivalent of 18650 batteries?18650 battery vs 21700
Many other lithium-ion batteries could be a good replacement for the 18650 cells. The 21700, 20700, and 26650 are all possible options that could be used instead of the 18650 rechargeable batteries. The main difference between them is sizes, if the battery compartment allows that, any of the mentioned types may replace the other. We have to note that there is a slight difference in capacity. Larger models are made to have bigger capacities allowing longer runtime. The 21700 battery is larger than the 18650, it has about 25% more capacity. This battery is used in battery packs designed to last longer. 
5.How to choose the best 18650 rechargeable battery?
The energy density or capacity is measured in mAh, the higher the rate the more runtime you should be expecting. The 18650 lithium-ion batteries battery capacity is not necessarily higher as better, depending on the specifications of the equipment used. There are a few tricks you can learn about counterfeit batteries. You have to make sure you always get authentic batteries to get the best performance.
6.How to charge 18650 rechargeable battery?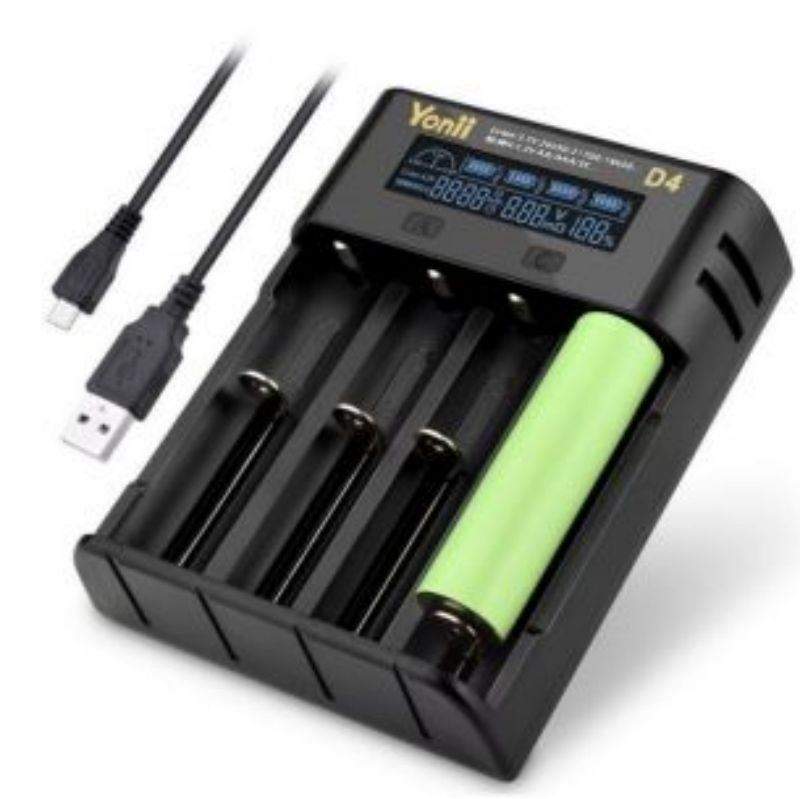 Rechargeable lithium-ion 18650 batteries are better than single usage similar batteries. They have a long lifespan and they deliver constant power. Charging these batteries is very easy but there are a few things to consider.  You can purchase a 18650 battery charger from a store, you need to make sure it's made for this specific type. Other chargers may do the job but on a long-term basis, they will just damage the battery,Lithium-ion batteries can only use a dedicated charger.
The charging voltage 18650 lithium-ion batteries do not vary depending on the manufacturer. The average voltage needed for the charge is 4.2 V. You can check if the charger's output voltage meets those numbers.  There are two types of chargers; USB Powered and main power, which makes things great for users. USB chargers can be plugged into any USB socket and they will work perfectly. Manufacturers recommend using high current-rated mobile chargers for better performance. The main current chargers are just connected to the sector power supply and they will do the job. 
When 18650 rechargeable batteries are used to make battery packs, special chargers should be used to charge the entire pack. Their behavior as well as requirements while connected are completely different. 
7.Charging tips for 18650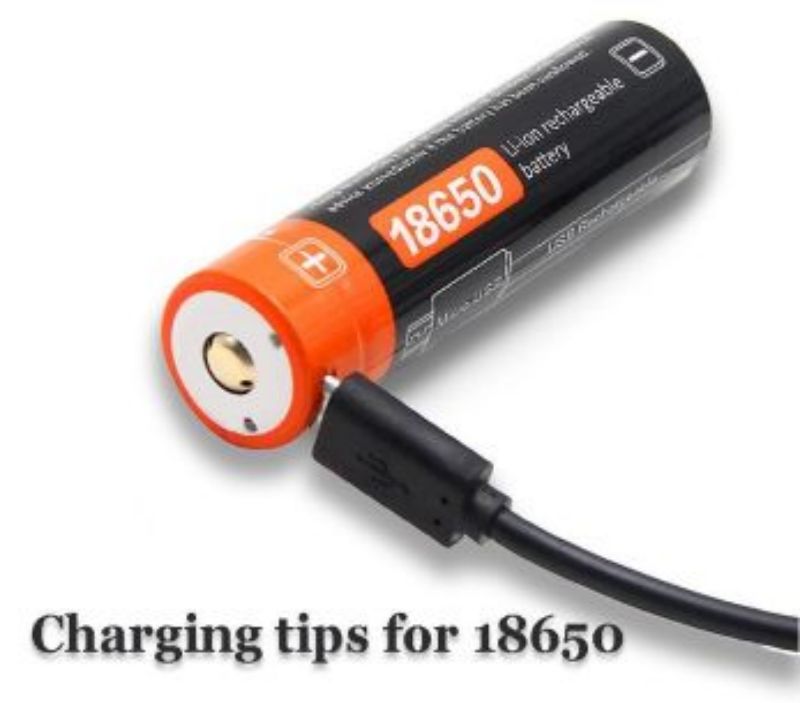 In order to maintain your rechargeable 18650 batteries, there are a few precautions to take while charging them. The most important tip for charging lithium-ion 18650 batteries is using the right charger. There are many possible ways, the best thing is to follow the manufacturer's recommendations. In the battery's manual, you can find details about the specs of the charger, follow those instructions.
Use the appropriate charger, some chargers are made in a way that can fit many lithium-ion cell types. The problem is not about just fitting in the charger but the power it generates. Inappropriate power during charge may permanently damage the battery.  Avoid over discharge, always charge your batteries before they get completely drained. If that happens frequently it may cause permanent damage to the battery.
Monitor the 18650 rechargeable batteries while charging them, the trick is to notice any overheating or change in regular charging time. These symptoms could be a sign of trouble.  Make sure to get an original charger, cheap counterfeit chargers won't supply the appropriate power and that may cause problems. 
8.How long does it take to charge a 18650 battery?
Depending on the charger and the battery's specs, it takes about5 hours to fully charge a 18650 lithium-ion battery. The energy rate is usually 0.2c, and if you want to charge faster, you need to buy a high rate battery. 
9.Can you overcharge 18650 battery?
The answer is no, you should never overcharge your 18650 rechargeable battery. Overcharging I generally related to using inappropriate chargers, as smart chargers won't let that happen. Smart chargers for lithium-ion batteries are designed to cut the power flow once the battery reaches its maximum charge. Using other ways to charge the battery won't give you this advantage. In these situations try to monitor the charging and remove the cells once it's done.  Overcharging a 18650 lithium battery could have catastrophic results as the temperature will rise dangerously. Overheating could either damage the battery or in some cases result in an explosion. 
10.How can I charge my 18650 battery without a charger?
There are many possible ways to charge an 18650 rechargeable battery; using USB or sector chargers and using some other ways. Even though it is not a great solution but, in some cases, you can recharge a fully discharged battery using a fully charged one. You just need to connect the terminals of the batteries in a way to allow current flow. Electricity will move from the charged battery to the dead one. Within about an hour you can test the charge in the battery and you will find that it has some power.
Another solution is using a bench DC power source, but you have to do it very carefully. Before connecting the battery, you need to make sure that the voltage output is 4.2 V.  Make sure to turn off the power supply before connecting the wires. Once you verify the output is 4.2 V you can connect the positive terminal of the battery to the positive terminal of the DC power supply. You also have to connect the negative terminals together. You need to make sure that the connections are tight enough to prevent short circuits.
When you have everything ready you can turn on the power supply and let the battery charge. You need to control the operation and unplug the battery once charged. You don't want to get it overcharged and damage it. Using these techniques is not recommended especially for those who don't have a big knowledge of electronics. Getting an appropriate charger for rechargeable 18650 lithium-ion batteries is better than trying to save some money. Inappropriate manipulations during such a sensitive operation could not only damage the battery but risk your life. Overcharging can overheat the batteries and may lead to explosions so be careful! 
11.How to use 18650 rechargeable battery cells?
18650 rechargeable battery cells are just like any other lithium-ion battery. They have extra light weight, high capacity, and long-life cycles. To maintain them properly you need to take some precautions and follow these instructions. It is highly recommended to avoid deep discharge, if it happens frequently it may damage the batteries and cost you a lot of money. 
Use the appropriate charger, even though there are many options for charging lithium-ion 18650 batteries. the best way is using a charger specially made for them. There are specific power requirements for each battery that should be respected.  Don't let the batteries be exposed to heat or sunlight it may overheat them dangerously and result in an explosion. Always monitor the batteries to detect any trouble, the best way to maintain a battery's health is to keep an eye on it. 
12.Should you charge 18650 batteries before using?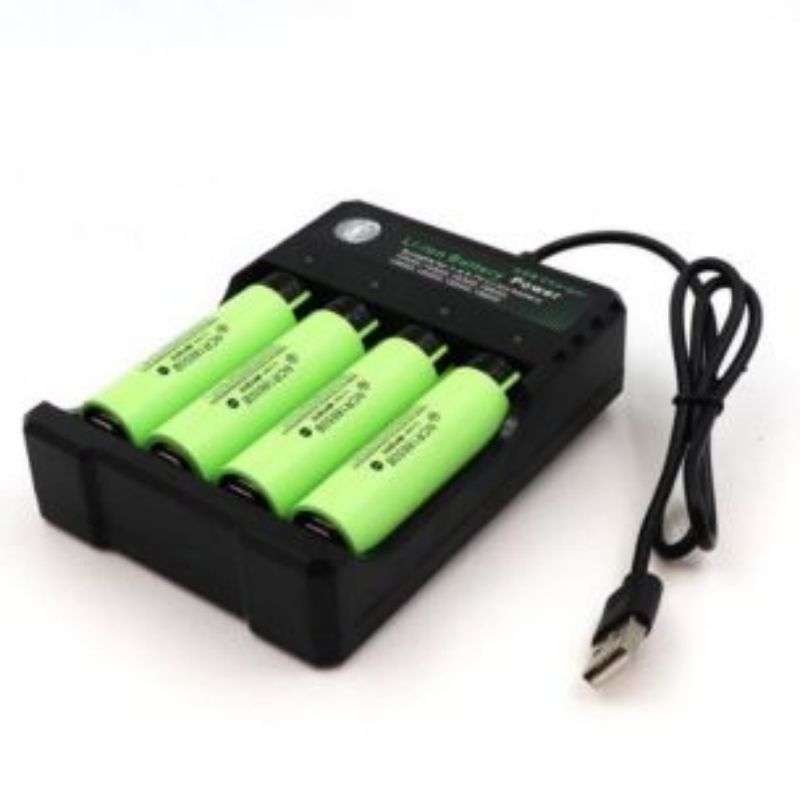 In general, batteries are charged to 40%-60% before being stored. When you buy lithium-ion 18650 batteries you can charge them before the first usage. 
13.What is the lifespan of an 18650 battery?
Most 18650 rechargeable batteries have a life span of 1500 cycles. However, that number could be up to 4000 cycles for lithium iron phosphate models. 18650 lithium-ion battery cells used in battery packs are built to live for longer times compared to ordinary models.
14.FAQs about 18650 - everything you want to know about 18650 rechargeable battery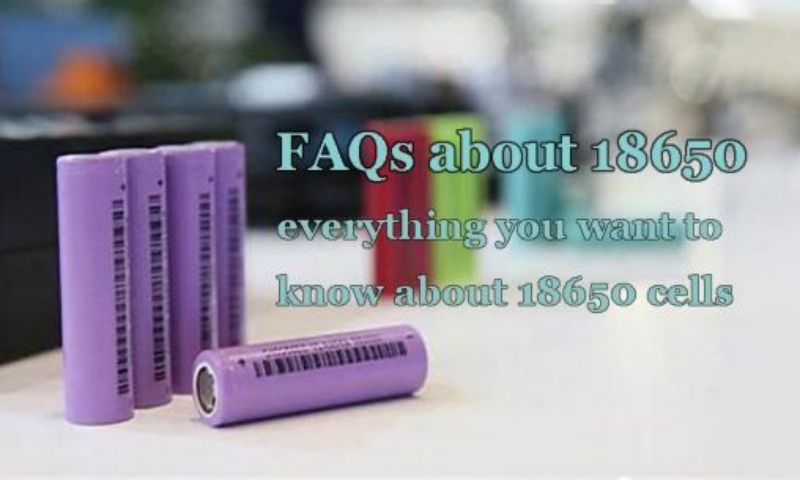 ① Can I use AA battery instead of 18650 rechargeable battery?
AA batteries are completely different than 18650 rechargeable batteries. First, the size is not the same, 18650 batteries are larger than AAs. Power specs are also different, AA batteries are just 1.2V(rechargeable) or 1.5V(non-rechargeable). However, the voltage of 18650 batteries is 3.2V to 3.7V. Therefore, generally can not replace at will. 
② Are there different size 18650 batteries?
18650 rechargeable battery sizes and styles the same from one manufacturer to another, and the voltage is the same (depending on the battery material) but only the capacity may different. The voltage range is between 3.2 and 3.7 V and the capacity varies between 2500 mAh and 3500 mAh. 
15.Conclusion
18650 lithium-ion battery cells are very common in the market as an alternative to powering multiple products. They are lightweight and have great endurance allowing them to be the top choice for many industries. They can be employed for portable devices like power tools, electronic devices, and flashlights, such as 18650 electric motorcycle batteries. Some heavy industries like electric vehicles are using them to make battery packs.  To get the best of their performance make sure to buy authentic batteries and avoid cheap counterfeits. Use the appropriate chargers to maintain them in good shape for longer periods of time.