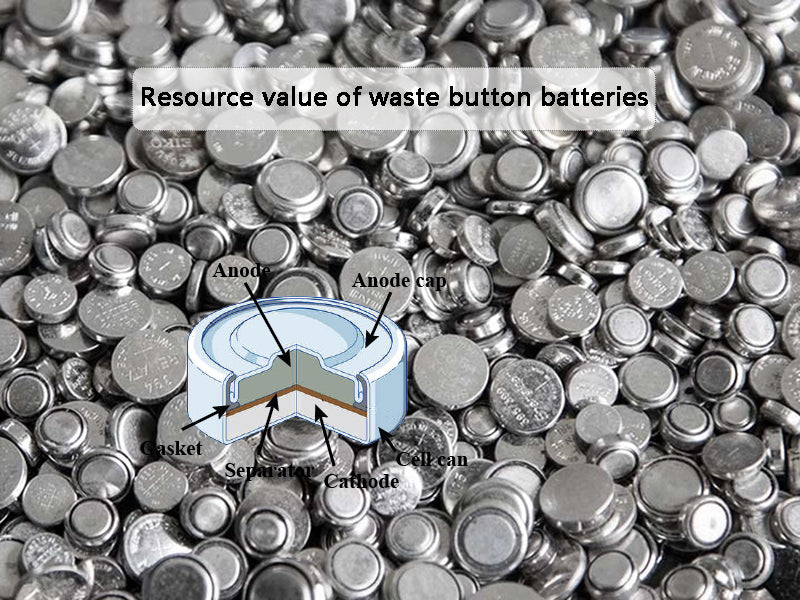 main content:
The resource value of waste button batteries depends on three main factors: the value of metals contained in waste button batteries, the amount of waste resources, and the difficulty of collecting waste button batteries.
1. The value of metals contained in waste button batteries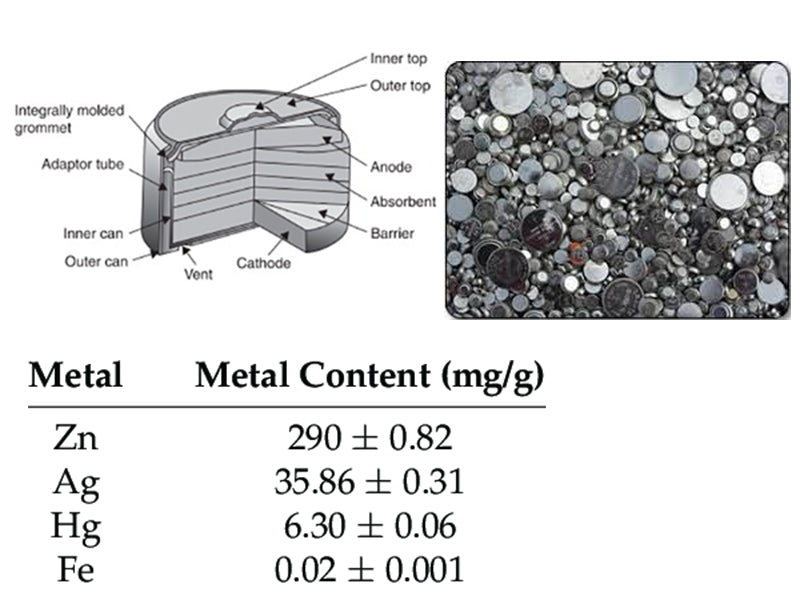 At present, the shortage of some non-ferrous metal resources in China is serious, and vigorously developing the non-ferrous metal recycling industry has become the top priority of sustainable development. At present, two-thirds of China's non-ferrous metal mines have entered the middle and late stages of mining. In addition, many non-ferrous metal mines are on the verge of exhaustion or their lifespan is greatly shortened due to disorderly and unreasonable mining. As the world's largest battery producer, China consumes a large amount of zinc, manganese, copper, nickel and other metals in battery production every year. Among them, the production of button batteries requires the consumption of metals such as nickel, manganese, zinc, cadmium and silver, which are all valuable resources. Due to the lack of effective management measures, a large number of waste button batteries are directly discarded as garbage.

According to a 1994 US Bureau of Mines statistics, the world's zinc resources are very limited. According to the current mining technology and mining speed, zinc resources will be exhausted within 20 to 40 years. If the mining technology is improved, the depletion time of zinc resources will only be extended by about 1 times. According to information, China's dry cell production consumes nearly 250,000 tons of zinc annually, which is about 15% of the total annual zinc output. Although silver, nickel and cadmium are the most valuable metals in waste button batteries, lead is second, and mercury and zinc are lower, but due to the shortage of resources and the absolute amount of resources used in the production of button batteries, the waste button batteries The recycling of various valuable metals has certain resource value.

2. Amount of waste resources of waste button batteries
China is the world's largest battery producer and consumer. According to the data provided by the China Battery Industry Association, China's annual battery output is about 18 billion, about 10 billion is exported, and China's annual consumption is about 8 billion. Button batteries are widely used in small portable electronic products, and the consumption is also very considerable.

Table 1 shows the estimated amount of recyclable waste batteries that can be recycled in Shanghai every year (this estimated data is based on the premise that the recycling rate of waste batteries reaches 60%).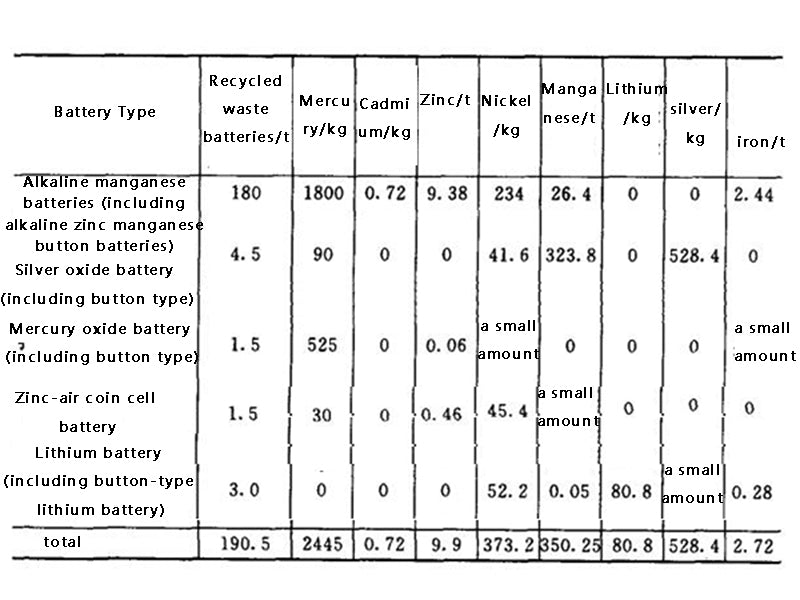 Table 1 Recyclables and Recycling Amounts of Waste Batteries in Shanghai
As can be seen from Table 1, only among the waste batteries in Shanghai every year, for silver oxide batteries (generally silver oxide button batteries), 528.4kg of silver can be recovered, while the total amount of batteries consumed in Shanghai every year About 100 million, accounting for only 1/80 of the national battery consumption. If the substances in the country's waste button batteries are recycled, the amount of recycling is quite large.
3. The difficulty of collecting waste button batteries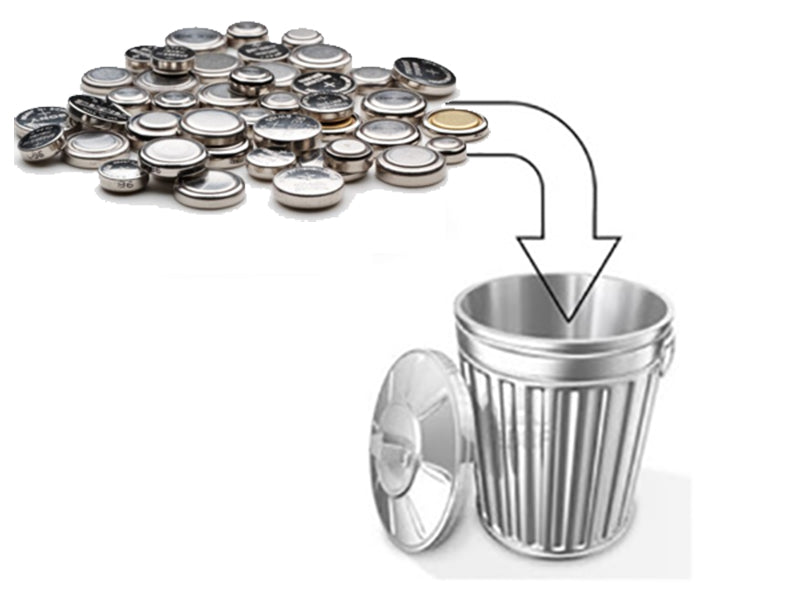 All countries have corresponding regulations for waste batteries to manage recycling. In addition, there are some spontaneous organizations to collect household waste batteries and send them to relevant departments for disposal. In New York, USA, for example, most associations have the task of voluntarily collecting household waste batteries, and a small amount of waste batteries are collected through recycling points set up on the roadside. Some of the waste button batteries are collected by mixing with other batteries. Some countries such as Switzerland, Denmark and other countries collect waste button batteries separately, and the collected waste button batteries are sent to special processing departments for processing and recycling.

The State Environmental Protection Administration, the National Development and Reform Commission, the Ministry of Construction, the Ministry of Science and Technology, and the Ministry of Commerce have promulgated the "Technical Policy for the Prevention and Control of Waste Battery Pollution", which requires that units that undertake the responsibility for recycling waste rechargeable batteries and waste button batteries should The sales channel guides and organizes the establishment of a waste battery recycling system or entrusts the relevant recycling system for effective recycling. Sellers of rechargeable batteries, button batteries and electrical products using these batteries shall set up a sorting and recycling facility for waste batteries at their sales offices, and set up conspicuous signs in accordance with relevant standards. The policy also encourages consumers to send waste rechargeable batteries and waste button batteries to the corresponding waste battery recycling facilities in battery or electrical appliances sales stores for the convenience of sellers to recycle.
4. Analysis of the resource value of waste button batteries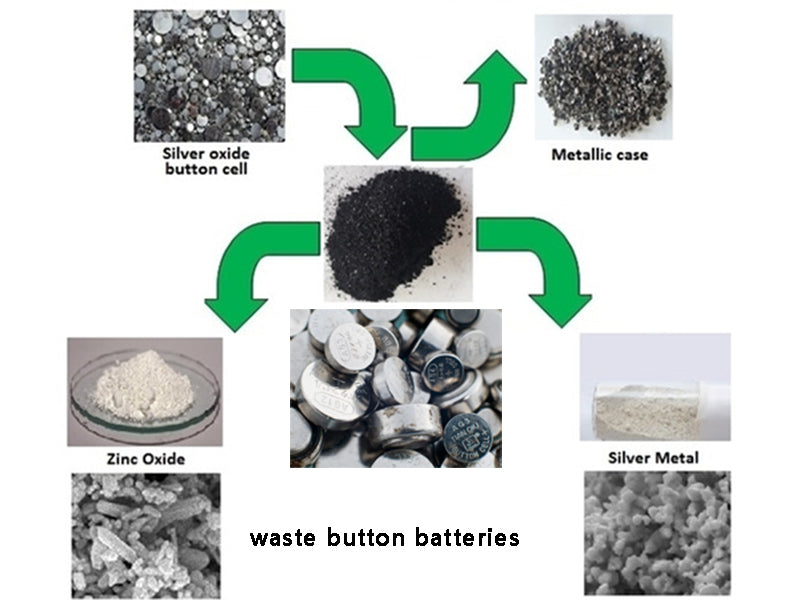 These three factors that comprehensively measure the resource value of waste button batteries can be found that the metals contained in waste button batteries are of high value, including precious metals silver, non-ferrous metals cadmium, nickel and other metals such as zinc and manganese, and these metals are in The total amount in the spent coin cell battery is also larger. If the metals in it can be comprehensively recycled, the economic value will be higher. However, it is difficult to collect waste button batteries, which makes it difficult to recycle them.

Considering that waste button batteries are also harmful to the environment and the human body, it is dangerous to mix them directly with household waste. In this way, from the perspective of environmental benefits, the waste button battery also has great resource value.