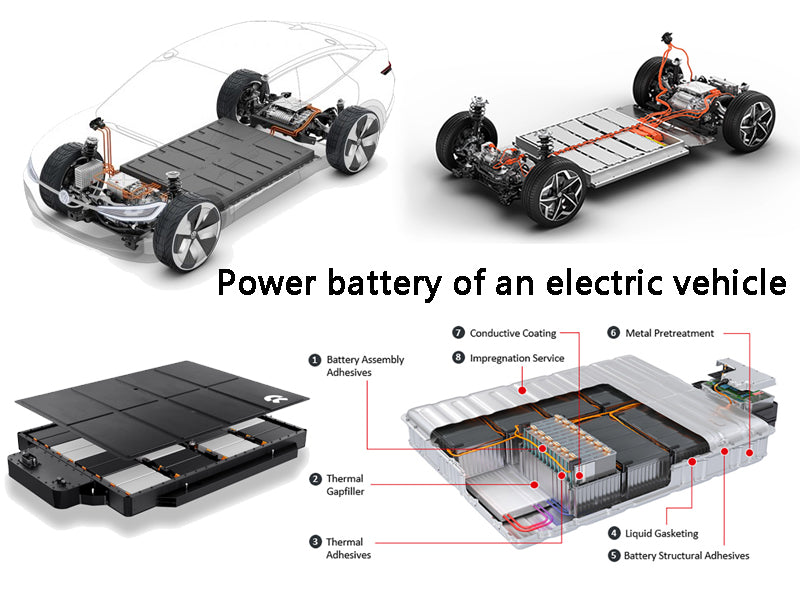 As a key technology restricting the development of electric vehicles, power batteries have always been a hotspot for many production and R&D units to invest in. The development history has been more than a hundred years. The main types of secondary batteries used in electric vehicles are shown in Table 1.
Battery Type
English Abbreviation
Valve regulated lead acid Battery
VRLA battery
Nickel iron Battery
Ni-Fe 

battery

Nickel-zinc Battery
Ni-Zn 

battery

Nickel-cadmium B

attery

Ni-Cd 

battery

Nickel-metal hydride B

attery

Ni

-

MH

battery

 Zinc chloride Battery
Zn/Cl

2

 

battery

Zinc-bromine Battery

Zn/Br

2

 

battery

Iron-air Battery
Fe/Air battery
Aluminum Air Battery

Al/Air battery

Zinc Air Battery

Zn/Air battery

Sodium sulfur Battery
Na/S 

battery

Sodium nickel chloride Battery
Na/NiCl2 battery
Lithium aluminum iron sulfide Battery
Li-Al/FeS battery
lithium polymer battery
Li-Po battery
Lithium Ion Battery
Li-ion battery
Table 1 Main types of secondary batteries used in electric vehicles
Lead-acid batteries are the earliest rechargeable batteries used in electric vehicles. In order to adapt to the emerging world electric vehicle industry, with the extensive implementation of the ALABC (advanced lead-acid battery consortium) project, VRLA developed rapidly in the 1990s. In 2000, the British FVP (foresight vehicle programme) proposed a lead-acid battery optimization and development plan for HEV. Generally speaking, the main ways to improve the specific energy and cycle life of lead-acid batteries are the modification of electrode active materials and the design of battery grids.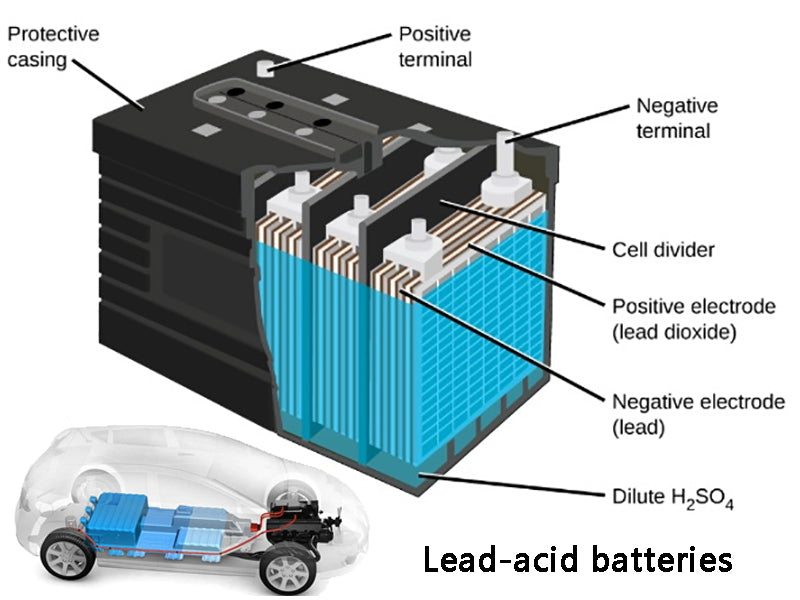 Lead-acid batteries
Ni-MH battery, due to its higher energy, power density, long life and no pollution and no memory effect than lead-acid batteries, at the end of the 20th century, including Daimler Chrysler, Ford, General Motors, Honda and Toyota, etc. A well-known automobile company has started to develop EV and HEV based on Ni-MH batteries. Among them, Toyota produced the world's first commercial HEV, and the Ni-MH battery used in the EV1 produced by General Motors has a range of 225 km on a single charge.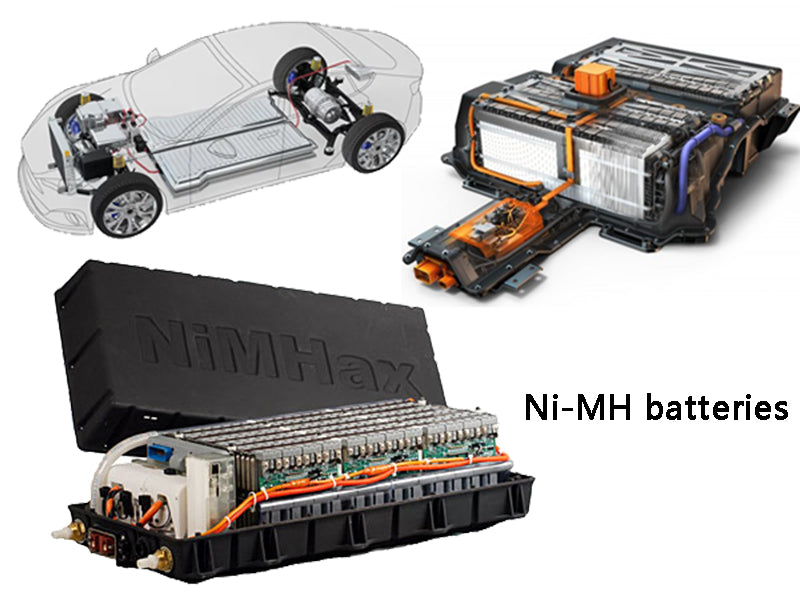 Ni-MH battery
Since Japan took the lead in developing Li-ion battery in 1991, because of its light weight, small size and high specific energy, it has been valued by countries all over the world and has been vigorously developed and developed, and it has rapidly developed into industrialization. The energy density of Li-ion batteries is 4 to 5 times that of lead-acid batteries and 2 times that of Ni-MH batteries, and the voltage is 3 times that of Ni-MH batteries and nearly 2 times that of lead-acid batteries. Electric vehicles powered by Li-ion batteries have appeared in China, the United States, France, Italy, Japan and many other countries. With the continuous improvement of battery technology, the application of Li-ion batteries in EVs and HEVs will have more potential.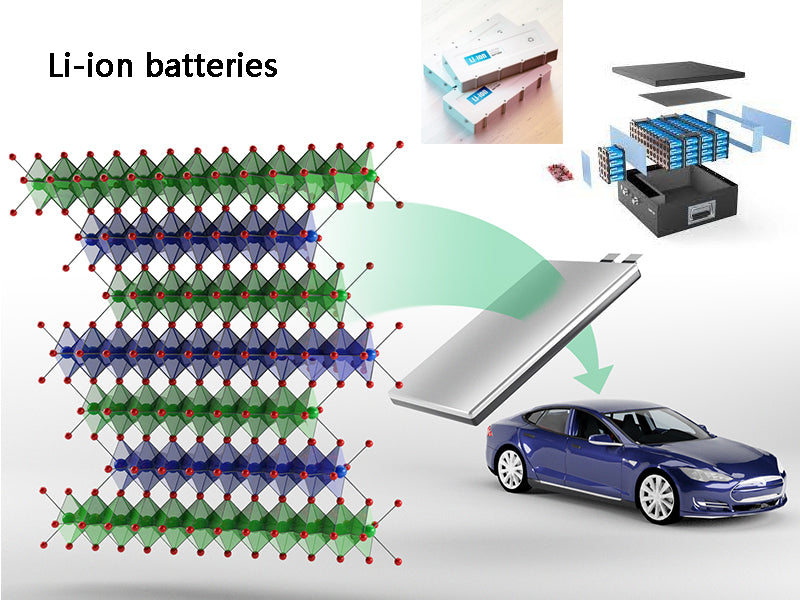 Li-ion battery
Due to the increasing requirements for environmental protection in recent years, the use of heavy metal-containing Ni-Cd batteries and lead-acid batteries is gradually limited. Ni-MH batteries use a large amount of non-ferrous metals and the production process is limited, and there is little room for further development. Compared with Ni-MH batteries, the use of Li-ion batteries in EVs and HEVs can reduce the mass of the battery pack by 40%~50% and the volume by 20%~30%, which currently affects the popularity of Li-ion batteries in electric vehicles. The main issue is cost. Although the cost of Li-ion batteries is currently higher than other batteries, it is expected that the cost of Li-ion batteries is expected to drop to 2/3 of that of Ni-MH batteries in the near future.

The United States established the National Li-ion Battery Manufacturing Alliance in 2008, and invested US$1 billion to 2 billion in the following five years to form the ability to manufacture Li-ion batteries on a large scale. Hitachi, Japan's largest industrial electronics group, plans to expand its Li-ion battery production capacity by 70 times by 2015. Since 2012, Germany has launched a 360 million euro vehicle lithium battery development plan, and almost all German automobile and energy giants have joined with capital. In China, Shenzhen BAK Battery Co., Ltd. invested 1 billion yuan in Tianjin to specialize in the production of lithium iron phosphate power batteries; in December 2013, Tianjin Lishen Battery Co., Ltd. invested 4 billion yuan in new energy vehicle battery projects, including automotive R&D, production and sales of Li-ion batteries including power batteries, new energy materials, supercapacitors, etc., with a planned 500 million A·h power battery cell assembly capacity; in 2014, a lithium battery project with a total investment of 2.5 billion yuan settled in Lingnan Bao, after the project is completed, it will have an annual production capacity of 700 million A·h batteries, 7,000 tons of lithium iron phosphate cathode materials, and 3,000 tons of graphite anode materials; Great support. It is estimated that by 2018, the total global demand for Li-ion batteries will exceed 385 million kW·h, an increase of more than 6 times compared with 2013. The market prospects of Li-ion batteries, known as green power sources, are very optimistic.