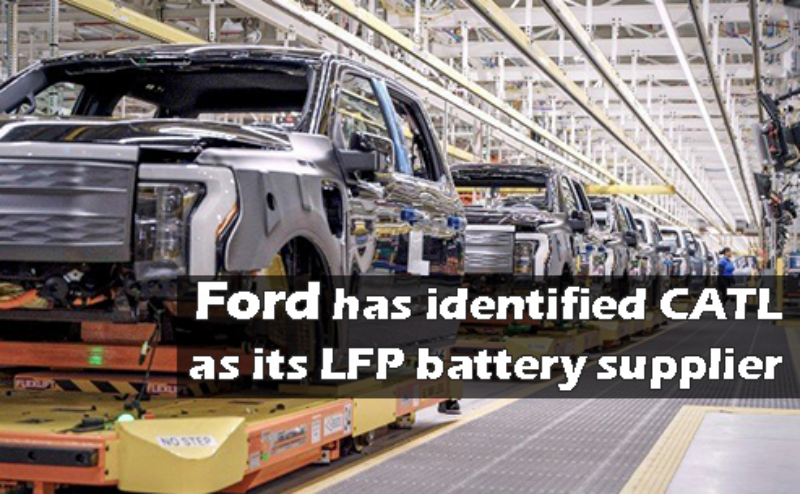 On July 26, 2022, Ford announced a series of vehicle electrification plans and investments. Ford said it will invest $50 billion by 2026 to deploy hardware facilities such as electric vehicle production bases and battery module R&D centers around the world. In terms of EV production, Ford aims to increase its total production capacity to 600,000 in 2023 and 2 million in 2026. On electrified models, Ford currently has Mustang Mach-E, F-150Lightning, E-Transit and other series. It is understood that Ford's production target of 600,000 electric vehicles next year will also be carried out on these models. 
Among them, Mustang Mach-E plans to produce 270,000 units next year, F-150 Lightning pure electric pickup truck and E-Transit 150,000 units each, and another 30,000 units are new pure electric SUVs for the European market. In addition to the aforementioned range of electric models it currently has, Ford plans to introduce seven new electric models in 2024. Currently, the main power batteries for EVs are lithium-ion batteries, of which lithium-ion batteries can be divided into two types: lithium iron phosphate battery and ternary lithium battery, they will have an impact on the performance of EVs, so choosing the suitable battery supplier is also critical to Ford's electrification plan.
1.Ford identifies long-term power battery supplier to underpin its electrification plans

Ford said that from this year to 2026, the company expects its global electric vehicle compound annual growth rate to reach 90%, more than twice the average annual growth rate of the entire electric vehicle industry. At the same time, Ford revealed that, as an important part of supporting its 2023 global electric vehicle production capacity target of 600,000 units, it has partnered with major global battery suppliers to lock in 60GWh of power battery production capacity. Based on the production capacity target of 2 million vehicles in 2026, Ford has also formed a preliminary plan with its battery suppliers on the scale of battery production capacity, bases and battery routes.
2.CATL will supply LFP battery packs based on CTP technology to Ford
On July 26, Ford also announced that from 2023, CATL will provide power batteries for the Mustang Mach-E sold in the North American market, and from 2024, it will supply power batteries for the F-150 Lightning sold in the North American market. On July 21, 2022, CATL, ranks first among the Top 10 power battery companies in the world, revealed that it has established a global partnership with Ford, which covers Ford's power battery supply in China, Europe and North America. According to reports, Ford has signed a series of agreements with CATL to ensure that Ford can obtain a stable battery supply from CATL for the next 10 years. On the battery route, CATL will mainly provide Ford with lithium iron phosphate battery packs based on CTP technology. For the use of lithium iron phosphate batteries, Ford said that lithium iron phosphate batteries can reduce material costs by 10% to 15%. 

Some of Tesla's lower-priced Model 3 electric cars sold in the U.S. already use lithium iron phosphate batteries, and electric pickup and van maker Rivian has also said it plans to use lithium iron phosphate batteries. For Ford, the use of lower-cost lithium iron phosphate batteries in some volume models will help its electrification to advance rapidly. Ford's vice president said that Ford plans to start a new 40GWh lithium iron phosphate battery factory in North America in 2026, but it did not disclose whether the factory was built by CATL. Earlier, it was reported that CATL has confirmed that it will invest 5 billion US dollars in North America to build a new energy lithium battery factory with a scale of 80GWh, which will serve customers such as Tesla, BMW and Ford.
3.Ford Motor will deepen cooperation with LG and SK On on ternary lithium battery
On the ternary battery technology route, Ford said it will continue to deepen its cooperation with LG Energy Solution and SK On. At present, SK On's first battery factory in Georgia, USA, has an annual production capacity of 9.8GWh and is expected to achieve mass production this year; the second US factory has also started construction and is expected to be put into operation in 2023, with a planned annual capacity of 11.7GWh. In May of last year, Ford and SK On announced that the two sides will jointly establish a battery joint venture, and the joint venture will produce cells and battery packs in the United States. The initial planned annual production capacity of the joint venture is 60GWh, and it is expected to achieve mass production in 2025, and will expand production in the future depending on the situation.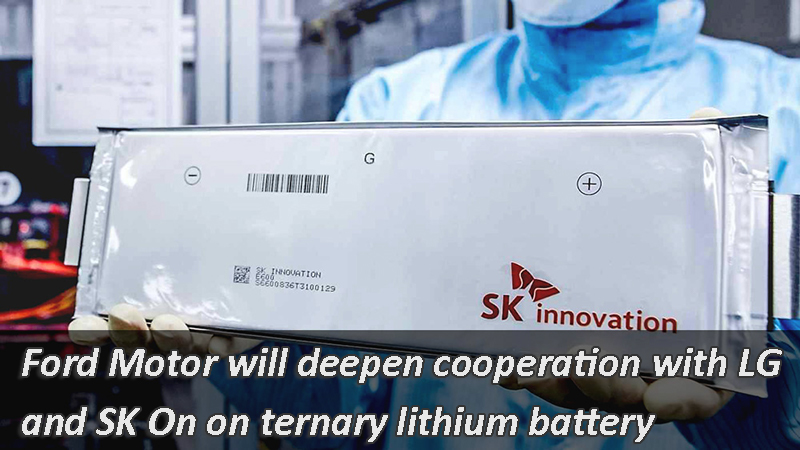 As a long-term cooperative supplier of Ford, LG Energy Solution has more than five large-scale power battery bases under construction and planning in North America. At the same time, in order to meet Ford's battery demand in Europe and other markets, LG Energy Solution's ternary lithium battery production capacity at the Wroclaw plant in Poland has been greatly increased, which can better support the production capacity growth plans of Mustang Mach-E and E-Transit. According to information released by Ford, CATL, LG Energy Solution and SK On will be its battery suppliers in major global markets such as North America, Europe and China.
It is worth noting that Ford revealed that the company will move towards the annual production capacity target of 2 million electric vehicles in 2026, and has completed 70% of the matching power battery designation. This may mean that three battery companies including CATL, LG Energy Solution and SK On have won 70% of Ford's battery orders for 2 million electric vehicles in 2026. It remains to be seen whether the remaining 30% of the orders are still shared by the above-mentioned companies, or whether other companies will join.
In February this year, Ford visited BYD's Xi'an Fudi XAB factory. At that time, the industry speculated that the two parties would cooperate based on lithium iron phosphate blade batteries, and they were already close to cooperation. However, this time Ford announced its electrification plan, only revealing that it will cooperate with CATL globally in terms of lithium iron batteries, and did not mention other suppliers. It remains to be seen whether BYD can enter Ford's global supply chain and have the opportunity to share its order share in the future.
Related article: Top 10 lithium battery companies, Top 10 power battery recycling companies