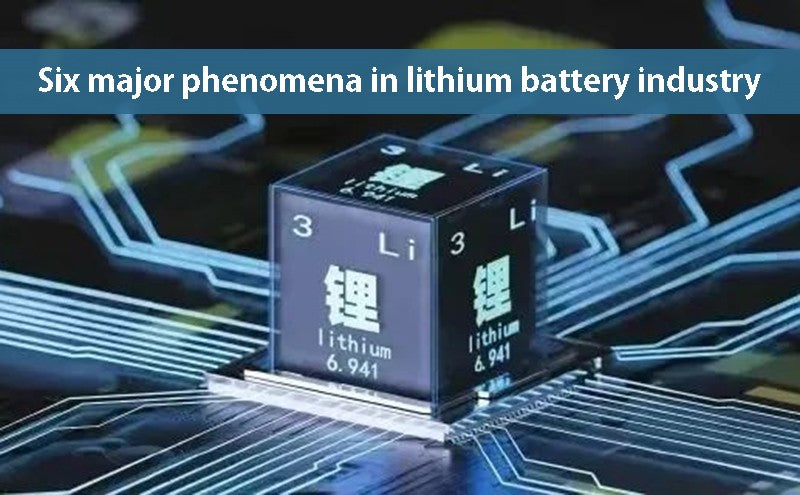 2022 is coming to an end. When it comes to hot topics in the automotive industry this year, lithium batteries can be said to occupy a firm seat. The sudden burst of market demand collided with the short-term limited production capacity, which brought about a series of industry chaos such as soaring raw material prices and hoarding. At the same time, it has also prompted lithium battery companies in the world and even OEMs to grab mines, upstream and downstream companies no longer perform their duties, and the lithium battery industry is surging, showing six major phenomena.
1. Lithium prices soared more than 10 times
The development of new energy vehicles is in full swing, and the demand for lithium battery-related products continues to grow. The supply of lithium carbonate and lithium hydroxide is in short supply, and the price has been rising all the way. Taking battery-grade lithium carbonate as an example, according to relevant statistics, its price will only be 40,000-50,000 RMB/ton in 2020, reach 72,000 RMB/ton in early 2021, and rise to 280,000 RMB/ton by the end of 2021. Entering 2022, the price of battery-grade lithium carbonate continues to rise rapidly. In March, it once exceeded the 500,000 RMB/ton mark, and then fell back slightly.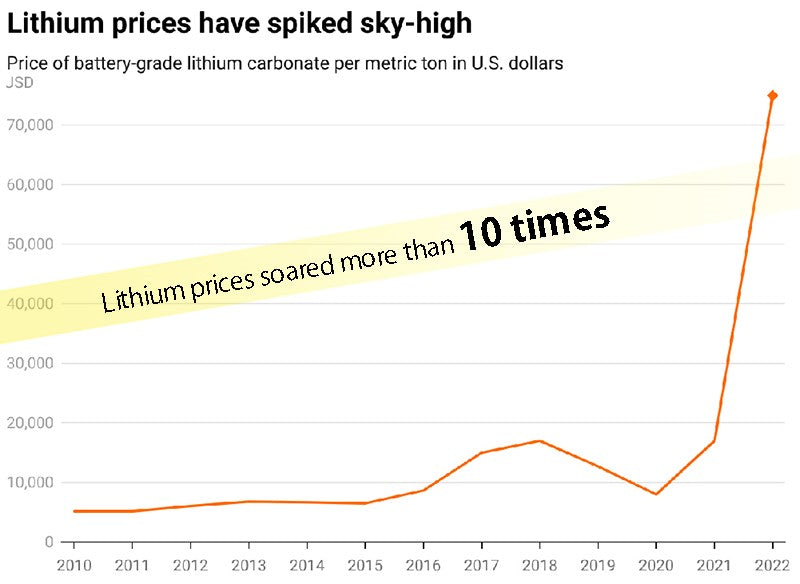 However, it started to rise again in late August, and once approached the 600,000 RMB/ton mark in November. At present, it is about 570,000 RMB/ton. In other words, compared with 2020, the price of battery-grade lithium carbonate has soared more than ten times in two years. Lithium reserves are not low in the world, but they are unevenly distributed. For a long time, China's lithium battery industry has had to rely on imports to meet the huge market demand. In addition, the upstream lithium mines were previously affected by the epidemic and were unable to expand production, while the downstream demand surged due to the wave of electrification. The superposition of various factors led to a sharp rise in lithium prices.
2. Upstream and downstream of lithium battery industry hoard and drive up prices
Behind the skyrocketing price of the lithium battery industry, in addition to the market factors of imbalance between supply and demand, there are also human factors. Experts previously pointed out that this round of unconventional rise in raw material prices deviates from the normal supply-demand relationship and is an irrational rise. There are unfair competition behaviors such as hoarding and deliberately driving up prices in order to seize the last window period before the expansion of lithium production capacity. Professionals also pointed out that the phenomenon of soaring lithium battery prices is very abnormal, and the industrial chain has harvested phenomena.
China's Ministry of Industry and Information Technology has issued several documents this year, requiring strict investigation and punishment of hoarding, price gouging, and unfair competition in the upstream and downstream of the lithium battery industry. Judging from the price trend of lithium batteries in each month of this year, the investigation by the Ministry of Industry and Information Technology has indeed cooled the lithium battery industry to a certain extent, but to solve the problem fundamentally, efforts must be made on the supply side to achieve a balance between supply and demand.
3. Upstream lithium mine manufacturers earn a lot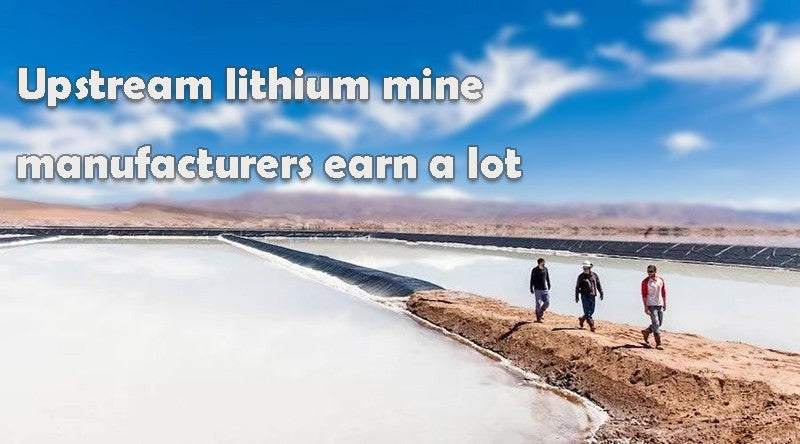 OEMs say they are losing money, and battery makers say they are struggling on the verge of profitability. Compared with the generally less optimistic performance of OEMs and battery manufacturers, upstream miners can be said to be making a lot of money in 2022. Taking Tianqi Lithium and Ganfeng Lithium as examples, in the first three quarters of 2022, the net profit of Tianqi Lithium will be about 14.8 billion RMB, a year-on-year increase of nearly 5 times; the net profit of Ganfeng Lithium will be 16 billion RMB, a year-on-year increase of nearly 30 times. Companies such as Tibet Mineral, Youngy, and Chengxin Lithium also made great progress.
The same goes for other miners around the world. For example, in the third quarter of 2022, the net profit of Chilean lithium mining giant SQM rose nearly 10 times. Lithium resources are scarce to a certain extent, the downstream demand is strong and rigid, and the downstream high-end buyers are more willing to buy goods. The sharp rise in prices has pushed the previously tepid miners to turn around. The outstanding performance of the miners must have made the OEMs and even the battery manufacturers feel extremely dazzling, but this situation will continue in the short term until the supply and demand are balanced.
4. Midstream and downstream companies collectively rob mines
In the case of tight supply, the midstream and downstream companies of the battery industry chain have changed their previous business models, no longer performing their own duties, but scrambling to deploy upstream and grab the right to speak. Many car companies are actively rushing to grab mines. Their measures include directly investing in mining companies or mining projects, and bypassing battery manufacturers to directly sign raw material supply contracts with miners.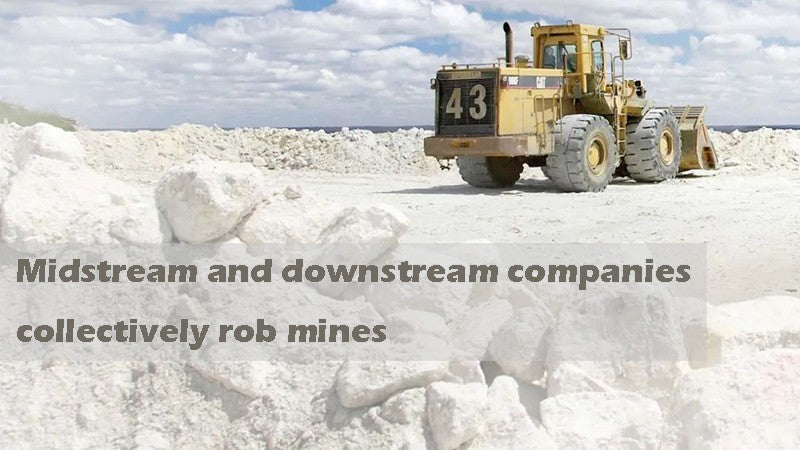 Looking at China again, vehicle manufacturers and battery manufacturers, such as CATL and BYD, are also competing to buy, mine and lock mines around the world. Among them, CATL is cooperating with two local companies in Indonesia to mine laterite nickel ore. The dispute over the right to speak about mineral resources has made the boundaries between midstream and downstream companies less clear, and more and more enterprises have been involved in this chasing battle.
5. OEMs enter the battery track
At present, OEMs generally choose several battery manufacturers to guarantee their supply, but in the long run, more and more OEMs are entering the field of power batteries through self-research, self-construction, joint construction, and shareholding. Among them, in November this year, the Geely battery project was signed in Yichun, Xiaopeng Motors invested 5 billion RMB to establish a new power battery company, and Xiaomi invested in a lithium battery material company.
The soaring cost and the weakening right to speak have pushed one car company after another to build batteries by themselves, hoping to realize the freedom of batteries. Of course, this requires enough money to be invested, and technical issues must also be considered. For this reason, from a practical point of view, more car companies are adopting a dual-track approach of procurement and self-research.
6. Waste batteries become the focus
In the development of new energy vehicles, the recycling and reuse of used batteries has been repeatedly mentioned, but it has not been paid attention to by compaies until the price of battery raw materials soars, and used batteries instantly become valuables, and the recycling price also rises in a straight line. After seeing the profits, not only power battery recycling companies, but also battery manufacturers and OEMs have also stepped down to recycle used batteries, and accelerated technological innovation to increase the recycling rate.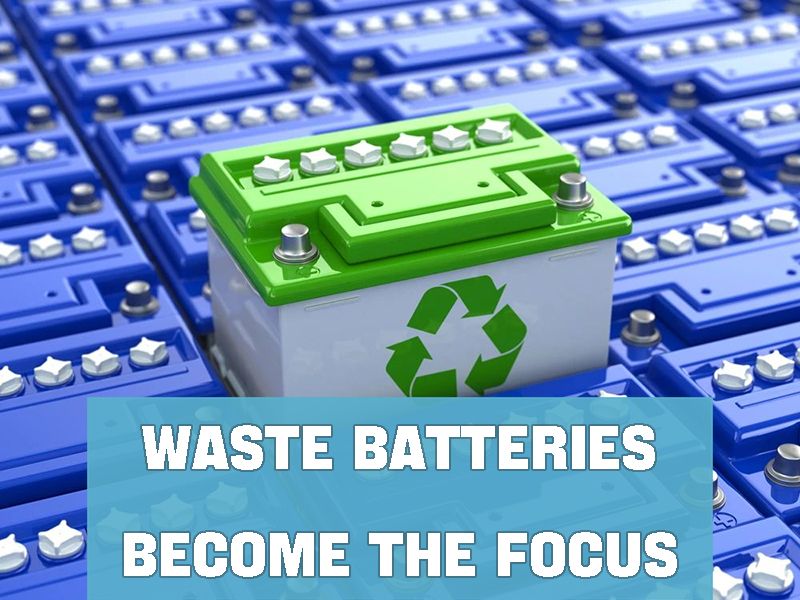 In December this year, Geely established a new company in Jiangxi to accelerate the deployment of battery recycling. In terms of technology, through innovation, some companies can increase the battery recycling rate to more than 90%. Faced with squeezed profit margins and limited supply, car companies and battery manufacturers have extended their tentacles to the field of battery recycling, hoping to take a shortcut to reduce costs and increase efficiency. Of course, there are also recycling chaos in this huge 100 billion market, which urgently needs to be regulated.
Related articles: lithium mining companies, battery-grade lithium carbonate companies, 12v battery price